Director of Bands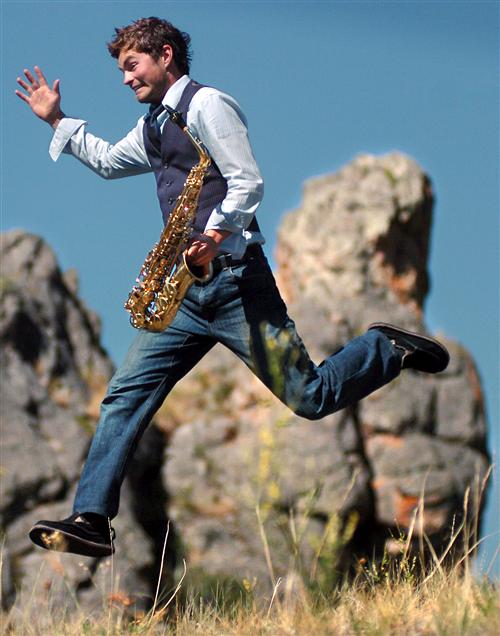 Phone: 406-728-2400 ext. 8035
Email:
Degrees and Certifications:
B.M. Music Ed & Performance - Lawrence University M.M. Performance - University of Illinois
Mr.

Jesse Dochnahl

I passionately believe that music education is important to all people. Band students learn the skills needed to perform an instrument, learn about life through music (knowledge) and their feelings/ideas/concepts about it (affect). My goal is to help every student become self-directed, self-assessing, life-long learners, AND to find out how much joy there is in making music with others.

If you have any questions, please email. If can volunteer with our band boosters or donate to our program, please visit the Band Parent Page. Thank you!

– Mr. Jesse Dochnahl, your band teacher-conductor

The "Official" Bio for Mr. Dochnahl

Jesse Dochnahl is the band teacher-conductor at Big Sky High School in Missoula, Montana. An active chamber musician, clinician, and conductor, he has worked with young musicians across Montana, Wisconsin, and Illinois. He served on the faculty at the University of Montana teaching saxophone in 2018. Prior to his appointment at Big Sky, Mr. Dochnahl taught instrumental music at C.S. Porter Middle School (2013-2016) and Sheboygan Falls High School (WI) (2007-2010). In the 2012-13 academic year, he served as Instructor of Saxophone and Freshman Studies at Lawrence University.

He was Visiting Instructor of Saxophone at the University of Montana in 2018.

Mr. Dochnahl was awarded First Prize in the MTNA Woodwind Young Artist (2005) and Chamber Music (2012) National Competitions, and was the winner of the Lawrence Symphony Orchestra Concerto Competition. He has performed as concert soloist with the Manitowoc Symphony Orchestra and the Lawrence Symphony Orchestra and in recitals at the NASA 2012 National Conference, SEAMUS 2012 National Conference, 13th World Saxophone Congress, the 2005 & 2012 MTNA National Conferences, and the U.S. Navy International Saxophone Symposium. Dochnahl has performed with Sinfonia da Camera Chamber Orchestra, Eugene Symphony, Green Bay Civic Orchestra, Sheboygan Symphony, Missoula Symphony, and Helena Symphony. A staunch advocate of new music, Dochnahl has presented world premieres of music by Javier Arau, Ming-Ching Chiu, Andrew Seager Cole, Joanne Metcalf, Asha Srinivasan, Scott Unrein, Stephen Wood, Naomi Siegel, and Carl Wittrock, among others. He earned his Master of Music at the University of Illinois at Urbana-Champaign where he studied with Debra Richtmeyer and holds degrees in music education and saxophone performance from Lawrence University where he studied saxophone with Steven Jordheim. Dochnahl also worked ten seasons as a trails technician with the Forest Service near Ennis, MT, his hometown.
Phone:
Email:
Degrees and Certifications:
Nick Barr - Brass/Jazz Coach and Lessons Teacher

Nick Barr teaches is our Assistant Band Teacher at Big Sky High School, where he teaches sectionals, chamber groups, private lessons in all brass instruments and guitar. Based in Missoula, MT, Nick graduated with degrees in Music Performance and Music Composition from the University of Montana. Nick studied trumpet with Dr. James Smart, John Driscoll, and Dr. Brendan McGlynn. Nick performed numerous times with the Missoula Symphony Orchestra, playing works such as Beethoven's 7th Symphony, Gustav Mahler's Symphony No. 2, Michael Torke's Javelin, and more. Nick also plays trumpet with the Ed Norton Big Band, a local swing band that plays at various venues and events. Through 2020, Nick was able to perform in numerous live-streams and pre-recorded concerts due to the Coronavirus pandemic. Nick frequently plays at the Missoula Community Theatre, playing both trumpet and guitar.

When he's not performing, Nick spends his time writing, recording, and producing soundtracks, as well as serving as chief audio engineer for the Peer Connection Network (KPCN) at the University of Montana.

Email: nickbarr96@gmail.com

Learn more at https://www.nickbarrmusic.com/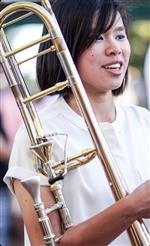 Phone:
Email:
Degrees and Certifications:
Lexi Vine - Percussion/Low Brass Coach, Lessons Teacher

Lexi Vine is the K-5 General Music teacher at Paxson Elementary School, and the Assistant Band Director at Big Sky High School. She instructs low brass and percussion students where she provides individual lessons and rehearses the drumline. She has worked with the Big Sky Marching Band since 2015. As a trombonist, she performs with the Missoula Symphony Orchestra, Ed Norton Big Band, and the Missoula Jazz Orchestra. In 2020, she co-founded the University of Montana Alumni Quintet as a euphoniumist and arranger. She earned a Bachelor's Degree in Music Education from the University of Montana in 2019. When not in school, Lexi enjoys solving twisty puzzles, juggling, and spending time outdoors.

Email: lvine@mcpsmt.org
Phone: (406) 728-2400 ex. 4558