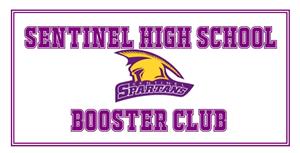 Welcome to the Sentinel High School Booster Club

ANNOUNCEMENTS:

SHS Yearbook Angel Campaign:
Donate to Students in Need!

The Sentinel Yearbook Staff is in the midst of its "Yearbook Angel" campaign – our goal is to gift as many yearbooks as possible to Sentinel students in need (beginning with seniors). If you would like to donate a yearbook to a student in need, please visit yearbookforever.com and enter "Yearbook Angel" in place of the student's name when ordering. This is a great way to support our immediate community members and to help ensure that our students have something to remember this historic year!

"What does it Mean to be a Spartan?"

Scholarship Contest



Deadline: May 11, 2020




Must be a graduating senior at Sentinel High School.

Click HERE to learn more.

Support our Sentinel Students!

Sign-up to work a Sentinel Spirit Store shift by clicking

HERE.

We are also looking for 50/50 sellers during all these shifts. 50/50 counts towards your requirement to the boosters too. Contact Sentinelhighboosterclub@gmail.com if you would be willing to sell 50/50 during a game.

Did you know the Sentinel Booster Club raises money for Sentinel students and programs by selling spirit wear and 50/50 tickets? The Sentinel Spirit Store is open during sporting and school events and relies on

volunteer

help to operate the store. If your student participates in a sport or one of the many activities supported by the Booster Club, we could use your help.
And you help us monetarily support your student's activity.

Purple Rush Locker Room Fundraiser

The boys locker room is in desperate need of repairs and updates. This locker room has been mostly ignored for many years while other locker rooms in the building have been modernized. A Spartan family has taken it upon themselves to make these needed renovations happen. If you would like to contribute to this effort, go to the GoFundMe page or make a donation directly to the Sentinel Booster Club (donations are accepted when the Spirit Store is open or checks can be left at the front office - be sure to note the funds are for the Purple Rush Locker Room Fundraiser).

SPARTNERS NEEDED!

The Sentinel High School Booster Club is looking for a parent representative
(or Spartan Partner = Spartner)
for each sport and activity at Sentinel High School.
To learn more, click here.

Please click HERE to see a current list of existing Spartners and the status of each activity/sport, in terms of fulfillment of the needed support.
Our Purpose
The Sentinel Booster Club is comprised of parents, alumni, teachers and staff members who support all student activities at Sentinel High School. 100% of money raised by the Booster Club goes back to the student activities and the school.

Officers:

Lisa Mecklenberg Jackson, President
Carlett Hogan, Vice President
Amy Dupras, Treasurer
Sindie Kennedy, Secretary
Monique Tahbo, Spirit Closet Coordinator

Contact: sentinelhighboosterclub@gmail.com
Supported

Band
Basketball
Cheerleading
Choir
Cross Country
Dance
Drama
Families in Transition
Football
Golf
HOSA
Orchestra
Robotics
Scholarship Fund
Soccer
Softball
Speech and Debate
Student Government
Swimming
Tennis
Track
Volleyball
Wrestling

Sentinel Booster Club Scholarship

We are proud to offer two seniors each year with the Sentinel Booster Club Pride Scholarship in the amount of $250* to go to the college of their choice. In order to qualify for the scholarship:

Parent is a member of the Sentinel Booster Club
Student writes an essay on "What it Means to be a Spartan."
*Scholarship amount is based on funds raised and is subject to change.

---

How can you get involved?

One of the most difficult things to do as a parent is to stay involved in your student's high school career. Our kids want to pretend they don't know us, much less tell us about their high school experiences. However, studies show that parents continue to be the biggest influence in teenagers' lives. You can stay involved through Booster Club in several ways:

Show your support and become a member. You will receive a Spartan Pride Decal to place on your vehicle bumper or window. (Click here to download a membership form)
Volunteer at your child's activity level. Each activity will receive $250 towards their program costs when two parents from each activity help to run the Booster Club Spirit Closet at varsity games throughout the year. We ask for one parent representative from each activity to attend monthly Booster Club meetings to update attendees on their activity. Sign up to be a Spartner by clicking here.
Serve on a Booster Club Committee. Check in with the Booster Club president about current committees and fundraising efforts.

Please click HERE to see a current list of existing Spartners and the status of each activity/sport, in terms of fulfillment of the above needed support.

Like us on Facebook Follow us on Instagram

Join us Today!

Thank you always for your support!

The Sentinel High School Booster Club is a 501(c)(3) organization and your donation is tax deductible.