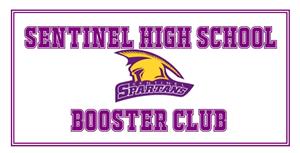 Our Purpose
The Sentinel Booster Club is comprised of parents, alumni, teachers and staff members who support all student activities at Sentinel High School. 100% of money raised by the Booster Club goes back to the student activities and the school.

Officers:

President: Carlett Hogan

VP: Cristy Bradford

Secretary: Julene Shea

Treasurer: Michelle Cooney

Spirit Closet Coordinator: Krista Kempthorne

Concessions Coordinator: Shannon Cooney

Contact: sentinelhighboosterclub@gmail.com
Supported

Band
Basketball
Cheerleading
Choir
Cross Country
Dance
Drama
Families in Transition
Football
Golf
HOSA
Orchestra
Robotics
Scholarship Fund
Soccer
Softball
Speech and Debate
Student Government
Swimming
Tennis
Track
Volleyball
Wrestling

---

How can you get involved?

One of the most difficult things to do as a parent is to stay involved in your student's high school career. Our kids want to pretend they don't know us, much less tell us about their high school experiences. However, studies show that parents continue to be the biggest influence in teenagers' lives. You can stay involved through Booster Club in several ways:

Show your support and become a member. You will receive a Spartan Pride Decal to place on your vehicle bumper or window. (Membership Form)
Volunteer at your child's activity level. Each activity will receive $250 towards their program costs when two parents from each activity help to run the Booster Club Spirit Closet at varsity games throughout the year. We ask for one parent representative from each activity to attend monthly Booster Club meetings to update attendees on their activity. Sign up to be a Spartner by completing the Sentinel High School Partner Form.
Serve on a Booster Club Committee. Check in with the Booster Club president about current committees and fundraising efforts.

Here is a current list SPARTNERS and the status of each activity/sport, in terms of fulfillment of the above needed support.

Like us on Facebook Follow us on Instagram

Join us Today!

Thank you always for your support!

The Sentinel High School Booster Club is a 501(c)(3) organization and your donation is tax deductible.