"Forward Thinking, High Achieving" defines Missoula County Public Schools. We believe that every student can achieve and graduate, regardless of circumstances or abilities.
Headlines and News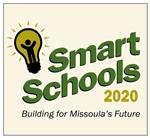 We are grateful to the community of Missoula for supporting the elementary and high school district bonds. These bonds are the result of 1000 hours of planning, visioning, and hard decisions made by hundreds of community members. It allows MCPS to truly deliver on the community's vision of 21st century education in our schools.
Announcements
Parents are encouraged to register their student(s) for school as soon as possible after relocating to Missoula or outlying communities. During the summer, MCPS elementary and middle schools are closed but families will be able to register their student at the MCPS Administration Office located at 215 S. 6th Street West. The high school offices remain open during the summer. Click here for registration details.

Beginning Monday, June 12, summer meals are available at four Missoula locations to children ages 18 and younger at no cost. No sign up required, students just need to stop by.

Both breakfast

(8:30 a.m. to 10

a.m.

)

and lunch

(11 a.m. to 1 p.m.)

will be served at these locations:

Chief Charlo Elementary, 5600 Longview Drive

Jefferson Center, 1700 South Ave. W.

Head Start, 1001 Warden Ave.

Russell Elementary, 3216 Russell St.

Summer meals will be served through Aug. 18 with the exception of the Head Start location which will end Aug. 11. For details, please call Stacey Rossmiller at 728-2400, ext. 3023.