MCPS Instructional Schedule Starting 1/25/21
Update: January 18, 2021

At the board meeting on Tuesday, January 12, 2021, the majority of the board voted to move the elementary and high school districts into Phase 2 for the second semester, with the understanding that the District and education staff will develop a safe implementation plan where we make every effort to achieve 5 out of 6 of the infection control measures outlined in the new Harvard Global Health Institute guidance.

As we are entering the last week of the semester, the Board supported the development of a transition plan to support this move to Phase 2. Due to the timing of the PIR day (February 8) and the President's Day Holiday (February 15), we have decided to start with 4-day weeks for this transition period. In-school instructional days will be Tuesday - Friday.

Here are the start dates for transition to Phase 2:

Grades K-2: January 26th

Grades 3-5: February 2nd

Grades 6-8: January 26th

Grades 9-12: February 2nd

Willard: February 16th (Due to timing of their grading period.)

Mondays: January 25 and February 1 will be reserved as staff preparation days before the shift to Phase 2. Remote learning is not expected on these days. February 8th is a pre-scheduled PIR (staff training) day. February 15th is a school holiday.

On-site learning will return to more days for all students, with a shortened day - same as in Phase 1

Near to full capacity in schools with modified operations and school activities (modified lunch or recess to limit large grouping)

Modified school schedule, shortened day and block schedule to allow for static groupings of students and limit mixing of students

Families could choose 100% virtual learning through our MCPS Online Academy.

In the event there is a confirmed case, either staff or student, there could be a short term school closure as recommended by MCCHD

Limited or modified extra-curricular activities in order to minimize mixing of groups

We will continue to practice five of these six main infection control practices within schools:

Universal masking (including while speaking)

Hand and bathroom hygiene

Achieving 4-6 air changes per hour of "clean" air through any combination of ventilation and filtration

3 ft social distancing for young learners at all levels of community spread

6 ft social distancing for high schools when levels of community spread rise above 100, 100,000 daily new cases

Robust quarantine policies and contract tracing practices

And, where feasible, surveillance/screening testing

(The Harvard guidance recommends sentinel or surveillance testing as an important infection control measure, something not currently available in our community.)

MCPS will continue to follow Missoula County's rule adopted by the Board of Health requiring face coverings for all staff and students.

The Missoula Online Academy will remain open for the entire school year.
Schedule Information
Notes and Reminders

Reminder: Shortened school day schedule, no matter the phase, K-5 8:30-2:10, 6-8 7:55-1:30, HS 10-3:30
Reminder: Middle Schools and High Schools will stay on the intensive block schedule, no matter the phase.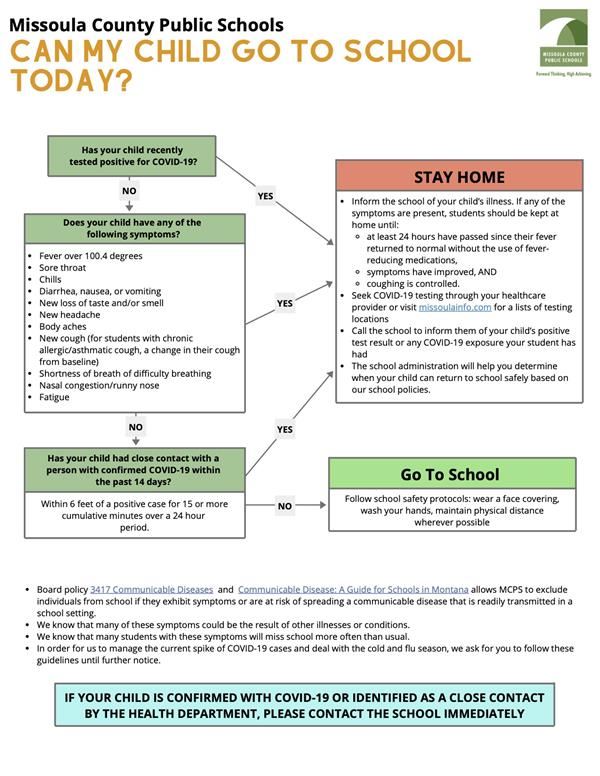 Remote Learning Expectations
How to talk with your children about Coronavirus/COVID-19