"Forward Thinking, High Achieving" defines Missoula County Public Schools. We believe that every student can achieve and graduate, regardless of circumstances or abilities.
MCPS Elementary District (K-8) Operations Levy

Missoula County Public Schools will have an elementary (K-8) operations levy on the May 2, 2017 school elections ballot. Ballots will be mailed to voters in mid-April and must be returned by 8 p.m. on Tuesday, May 2. Ballots can be returned by mail or dropped off at the Missoula County Elections Office or Missoula County Fairgrounds:

What does an operations levy support?

Instructional programs and materials

Extra-curricular programs

Employee salaries and benefits

Maintaining and operating school facilities - including utilities

For levy details and to learn more, click here.
Headlines and News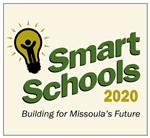 We are grateful to the community of Missoula for supporting the elementary and high school district bonds. These bonds are the result of 1000 hours of planning, visioning, and hard decisions made by hundreds of community members. It allows MCPS to truly deliver on the community's vision of 21st century education in our schools.
Announcements
School Day Study Committee Information

The School Day Study Committee has developed some recommendations for future action regarding MCPS high schools' start time. Click here for details.

Kindergarten Round Up
Kindergarten Round Up has been scheduled for kindergarten students registered for Fall 2017. Click here for details.

Missoula County Public Schools Elementary School District No. 1, Missoula County, Montana, will hold an election on May 2, 2017, at Missoula County. This will be a mail ballot election for the purpose of voting. Click here for details.

Preschool Enrolling for 2017-2018

Jefferson Preschool is now enrolling for the 2017-2018 school year. Students must live within the MCPS District boundaries and must be 3 on or before September 10 prior to the first day of school. Additional qualifications:

Student cannot be kindergarten age.

Must be completely toilet trained.

Must participate in an early childhood screening.

For more information, please contact Deb Chilcote at (406)728-2400, ext. 1090.

Hellgate High School Credit Recovery

Hellgate High School is now accepting registrations for summer credit recovery classes for only Hellgate High School students. Click here for details and registration.

Graduation and Promotion Information

Click here to view the MCPS high school and 8th grade promotion ceremony schedule.