Don't miss this opportunity to win your school a Chromebook! In the spirit of a friendly contest…the top three schools to obtain the highest percentage (based on their student population) of MCPS Mobile App Downloads/School Followers by February 17 will win a Chromebook! The app is FREE and available now in the Google Play Store and the App Store. Students, parents and staff can now receive messages from one or multiple schools, have easy access to the Q Portal, Moodle and more!





Kindergarten registration begins March 6, 2017 and will run through April 14, 2017. Click here for registration details.
"The colorful printed MCPS hanging calendar distributed at the beginning of the school year reflects a misprint on the February calendar page. Please note the correction: President's Day is Monday, February 20th not Monday, February 13. There will be no school for MCPS students in grades K-12 or preschool on Monday, February 20, 2017."
Construction crews have started work to rehabilitate the failing bridge deck on the Madison St. Bridge. While work is currently taking place underneath the bridge, lanes will be closed and traffic will be impacted starting Tuesday, January 3, 2017. Construction will continue through the end of the school year.

The bridge will remain open, but will be reduced to two lanes of traffic. There will be two-way traffic allowed on the bridge during construction. This reduction of lanes will likely cause delays in bus transportation to and from your student's school. Our transportation provider, Beach Transportation will be able to provide detailed information about routes affected and schedule changes during the week of 1/3/17. At this point, we simply want to notify you of the potential of a 10-15 minute delay on some routes.

If your child's bus is late to arrive on Monday, January 3rd in the morning or afternoon, it is likely due to impacts from this construction project. If you or your student commute to school in a personal vehicle, it will be important to be aware of the construction zone and delays it may cause.

You can stay up to date on this construction project by visiting:

http://www.mdt.mt.gov/pubinvolve/madisonbridge/

The following radio stations will also carry updates about the construction:

Montana Public Radio

The Mountain 102.5 FM

The Blaze 96.3 FM

If you would like to contact Beach Transportation directly, please call (406) 549-6121.



Washington students attended an assembly with Phillip Sheppard. Philip Sheppard is a composer, virtuoso cellist and a pioneer of the electric cello. He is a professor at the Royal Academy of Music and has composed extensively for film, television and theatre. He shares an important message of setting goals and following your dreams.
Click the picture to watch our students perform with Phillip Sheppard!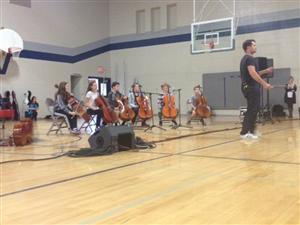 Thank you Missoula for affirming the new location for Cold Springs Elementary School. We are excited to work with the staff, students, parents and the community and our partners at A&E Architects to design the new school.
The school nurse tracks illness trends by keeping track of the number of students out with fever. If your child is home and has a fever, please mention that in your message. Your child should remain home for a full 24 hours, fever free, before returning to school. Thank you.
School Information
645 West Central
Missoula, MT 59801

Phone: 542-4085
Fax: 721-7346
Attendance Hotline: 728-2400 Ext.4867

The first bell rings at 8:07 a.m.

The tardy bell rings at 8:15 a.m.

Dismissal occurs at 3:25 p.m. on Mondays, Tuesdays, Wednesdays and Fridays.

Early dismissal occurs at 2:25 p.m. on Thursdays.