Welcome Back!
Smart Schools 2020 is a system wide initiative to create school facilities that provide students with the security, technology and dynamic learning environment they need to achieve in school and in life. Washington Middle School will be holding a Smart Schools 2020 Open House on September 9th at 6:30. Please come and learn about our building facility plan and the needs of our school.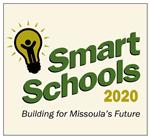 7th & 8th Grade Open House
September 16th
645 West Central
Missoula, MT 59801
The first bell rings at 8:07 a.m.
The tardy bell rings at 8:15 a.m.
Dismissal occurs at 3:25 p.m. on Mondays, Tuesdays, Wednesdays and Fridays.
Early dismissal occurs at 2:25 p.m. on Thursdays.
Phone: 542-4085
Fax: 721-7346
Attendance Hotline: 728-2400 Ext.4867