Washington students attended an assembly with Phillip Sheppard. Philip Sheppard is a composer, virtuoso cellist and a pioneer of the electric cello. He is a professor at the Royal Academy of Music and has composed extensively for film, television and theatre. He shares an important message of setting goals and following your dreams.
Click the picture to watch our students perform with Phillip Sheppard!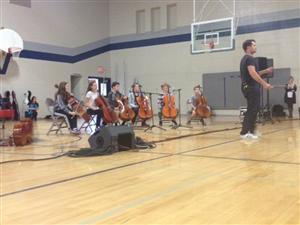 Thank you Missoula for affirming the new location for Cold Springs Elementary School. We are excited to work with the staff, students, parents and the community and our partners at A&E Architects to design the new school.
The school nurse tracks illness trends by keeping track of the number of students out with fever. If your child is home and has a fever, please mention that in your message. Your child should remain home for a full 24 hours, fever free, before returning to school. Thank you.
School Information
645 West Central
Missoula, MT 59801

Phone: 542-4085
Fax: 721-7346
Attendance Hotline: 728-2400 Ext.4867

The first bell rings at 8:07 a.m.

The tardy bell rings at 8:15 a.m.

Dismissal occurs at 3:25 p.m. on Mondays, Tuesdays, Wednesdays and Fridays.

Early dismissal occurs at 2:25 p.m. on Thursdays.