McGibben, Clarke ~ 1st Grade
Human Rights Day and more!
Posted by Clarke McGibben on 12/10/2021
Hello First Grade Families,
I hope you are having a wonderful December. It's crazy to think we have one week left until winter break! Please read below for important reminders and announcements.
Special next week: music
Library check-out on Friday
Hat and Sock Day on Tuesday
-As a Rattlesnake Staff Winter Challenge, we have a festive hat and crazy sock day on Tuesday. We are inviting the children to join us for this event. Your child is welcome to wear their most festive winter hat and craziest socks on Tuesday!
Snow Gear, Extra Shoes/Slippers, etc.
-Please send your child with proper outerwear for the wintery days. We have extra in the FCC for anyone who needs them, please just let me know! In addition, having a spare pair of socks and shoes or slippers (with a hard sole incase of emergency!), is incredibly helpful. Not only are the boots loud in the room, they track snow and mud in to our sitting areas. Your help is so appreciated. Finally, please label your child's snow gear. With 38 hands and 18 heads, it's pretty tricky to keep track of gloves and hats when they inevitably get a bit mixed up. Thank you!
Winter Break Celebration
-Next Friday, 12/17, we will have a fun day celebrating the winter break! If you are interested in providing a snack or activity for the class, please let me know. Unfortunately, we are unable to have parent helpers in the classroom at this time. Some activities already include a school-wide (in our classroom) sing-along, a preview of the Garden City Ballet's Nutcracker performance, and more!
PTA Fundraiser
-Please consider donating to the PTA's Direct Donate fundraiser. This money is critical to help support our students and school events. Thanks to the PTA's help, we are able to have our reading specialist who works with almost every child in our class. Thank you!
To celebrate Human Rights Day today, we listened to/watched the story "For Every Child, A Better World" by Kermit the Frog. Afterwards, each child cut out a dove feather and wrote a wish for the world. Ask your child what their wish was!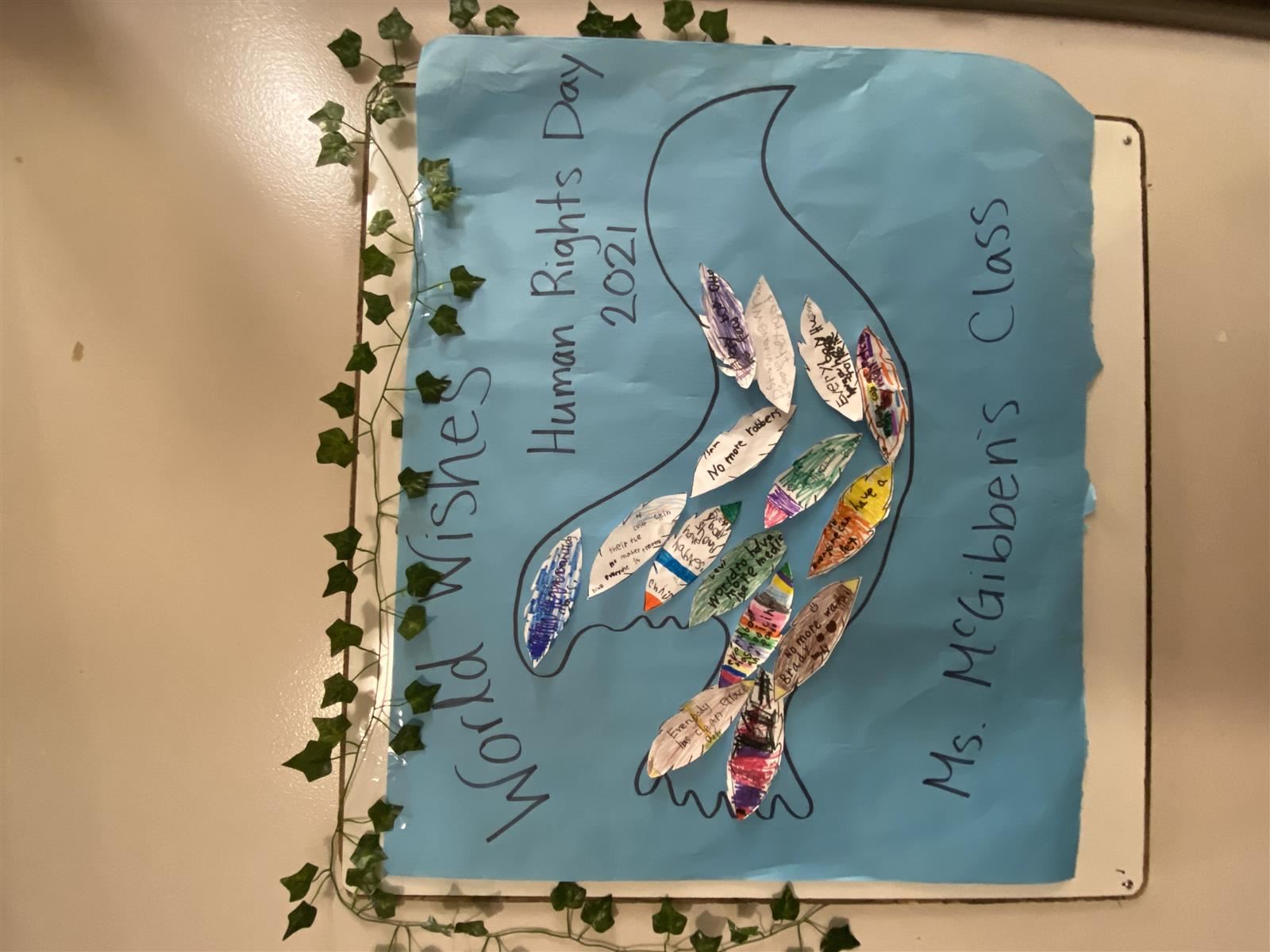 Please check out your child's BOOM folder (or backpack) for a newsletter about upcoming events. As a reminder, these come home each Friday and should be returned the following Monday.
Have a wonderful weekend!
Warmly,
Ms. McGibben