McGibben, Clarke ~ 1st Grade
Second Week in the Books!
Posted by Clarke McGibben on 9/10/2021 3:45:00 PM
Hello First Grade Families,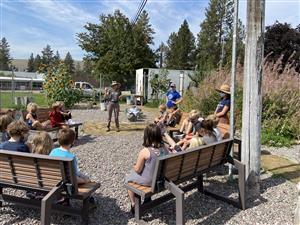 Week two in the books! This week we crafted some folding paper math art, visited our garden and tried some yummy fresh vegetables (some of us planted them last spring!), did "show and share" with our "me" items, and continued on with our Stellaluna unit. Towards the end of the week, we started learning about "Word Work" and "Listen to Reading" for our Daily 5 practice. We are continuing to discuss how we move and learn within our community. One of our words this week was "brave." We connected that to being brave at recess and asking a friend to play with you or asking to join in to play!
A quick THANK YOU to our fabulous PTA. I personally really appreciate the beautiful flowers you put in our spaces to begin the school year. In addition, the children brought in wonderful blooms throughout the week that really made our room pop with color! Please take a minute to read the letter in the BOOM folder to learn about the amazing things they are doing and have done for our community.
Reminders:
Water bottles. Children need water bottles everyday. If you are unable to provide one, please let me know. I encourage them to keep them at school and take them home on Friday.

After some reflection, I will be sending home BOOM folders on Friday only. If you have a note or info to get to me before Thursday (when I probably have the time to look in the folders) please email or call. I cannot guarantee I will see it before the end of the week.

Please return the BOOM folder on Mondays (or the first day of the following week).

Scholastic Book Orders! When you buy books, our class gets books! Please return the order (in BOOM fodler) by

Monday, September 20th

if you are interested in purchasing any books.

Next week we have PE.

Please have your child bring an extra pair of shoes. They can keep them in their cubby all week.
Please let me know if you have any questions! As always, it is a joy to be a part of your scholars' learning!
Warmly,
Ms. McGibben