McGibben, Clarke ~ 1st Grade
Posted by Clarke McGibben on 9/3/2021 3:30:00 PM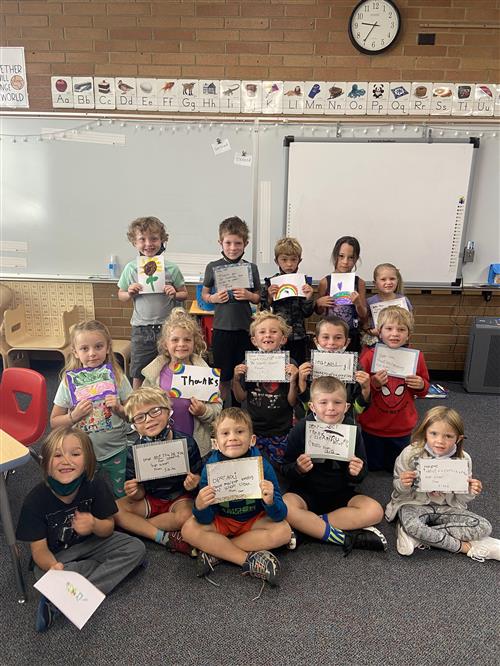 Our class wrote letters of appreciation for our custodians who worked tirelessly over the summer to prepare our school for our return! We were able to hand deliver them today and they were so excited. We agreed it felt really good to do something nice for others!
Dear First Grade Families,
Whew! First week of first grade is done! I hope your child had a positive and fun week as we worked through the ups and downs of being back in school and adjusting to a new routine!
A few reminders…
1-If your child has a getting home routine that changes often, please send me an email or call to let me know. If it's easier, an email at the start of the week with all the info is great too!
2-In lieu of homework, please be sure your child is reading 30 minutes a day. Whether they are being read to, listening to a story, or reading on their own (even just looking at pictures!) that is super beneficial.
3-We will begin using our computers soon. Children will need a set of headphones so that they can listen while not interrupting the rest of the class. If you are unable to provide a set, not a problem! Just email or call and I can track a pair down!
4-Please have your child bring no more than 5 items in their "me bag" included in their Boom folder on Monday. We will keep them throughout the week as a few children share their items each day.
It is a joy to be working with your child this year! I am so excited for the fun times to come. Always feel free to reach out if you have any questions.
cmcgibben@mcpsmt.org or 728-2400 x4726
Warmly,
Ms. McGibben (Clarke)
PS-There is a little card in the Boom folder for your child...please help them open it and read it :) Thanks!
NO SCHOOL ON MONDAY!