Calendar, grocery store money, and our winter concert
It's been an eventful week in the second grade Spanish classroom. We miss Maestra Corona a lot, but the kids know so much Spanish they can run our morning calendar meeting! Each day we take turns having a student leader take us through our morning calendar routines!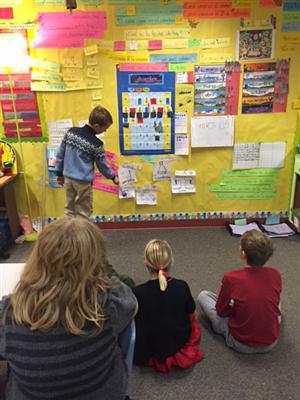 We did lots of practice this week using our two-digit addition skills to play grocery store. The kiddos did great speaking Spanish as they worked in pairs with play money to buy and sell frutas y verduras.
The kids also did a fantastic job preparing for and participating in the holiday concert. Many many congratulations to them and to Mrs. Callan for an amazing show.
It's been a busy, fun, crazy week! Best wishes to all for a restful, happy vacation and a terrific 2016! See you in the new year!