Hi! My name is Jeremy Kuchel and I will be teaching English Language Arts, Social Studies, and Health. This will be my 6th year teaching middle school and my first year at Washington Middle School. I am very excited to join this learning community; a new and exciting year of learning awaits. I was born and raised in the wonderful city of Missoula and graduated from the University of Montana in the spring of 2014. My wife, Brienne, is a 4th grade teacher at Stevensville Elementary School and we have 3 amazing dogs, Kasha (Siberian Husky), Evie (Siberian Husky), and Bodhi (Aussie). Along with education, I love the outdoors and the endless opportunities that Missoula has to offer. I am looking forward to a wonderful and fun year full of learning experiences.

Email: jkuchel@mcps.k12.mt.us

Phone: (406) 728-2400, ext. 2654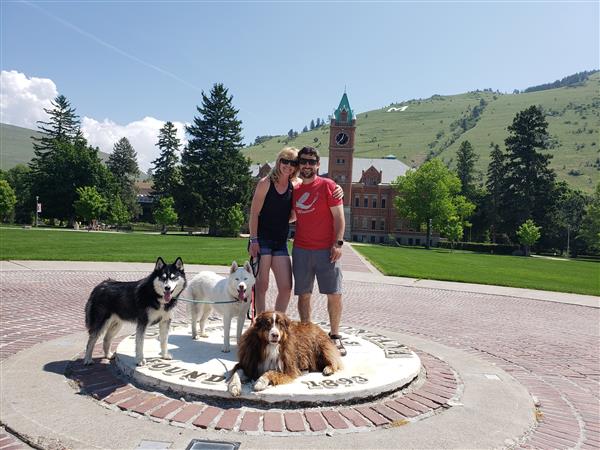 Work Completion/ Academic Recovery Time:

One of our goals as a team is to develop quality work habits, including time management and responsibility. Students will be given an agenda to bring and fill out to each class. Students will receive marks if he/she is tardy, neglects to complete homework, or is disrespectful/defiant. Upon receiving five marks for incomplete homework, a student will be assigned to 30 minute academic recovery after school M-W. (In addition to giving the student time to get caught up, this gives us the opportunity for some one-on-one problem solving so missing assignments do not continue to be an issue.) Upon receiving five marks for disrespect/defiance, the student will receive a 30 minute after school detention. After 10 marks in either area, a parent meeting will be scheduled along with a consequence. Students will receive positive marks and feedback in the agenda as well. After five positive marks, students will earn a prize. Please take time to look over this page in the back of the agenda.

Absences and Makeup Work:

Students are responsible to make up any and all missed work due to absences. Please fill out a an office prearranged absence slip for planned absences (multiple days) and contact the office to inform them of the day(s) the student will be absent.
Grading Scale:

100%- 90% = A

80% - 89% = B

70% - 79% = C

60% - 69% = D

59% - 0% = F
| | | | |
| --- | --- | --- | --- |
| Be RESPECTFUL | Be RESPONSIBLE | Be SAFE | Be Kind |
| Use Kind Words | Come Prepared | Be aware of your space and materials | Be Polite |
| Follow Directions | Treat your materials with care | Be aware of others' space and materials | Be courteous of others |
| Have consideration of yourself and others | Clean up after yourself | Follow rules and instructions | Be willing to help others |
| Raise Your Hand | Use Time Wisely | Keep hands and feet to yourself | Treat others with respect |