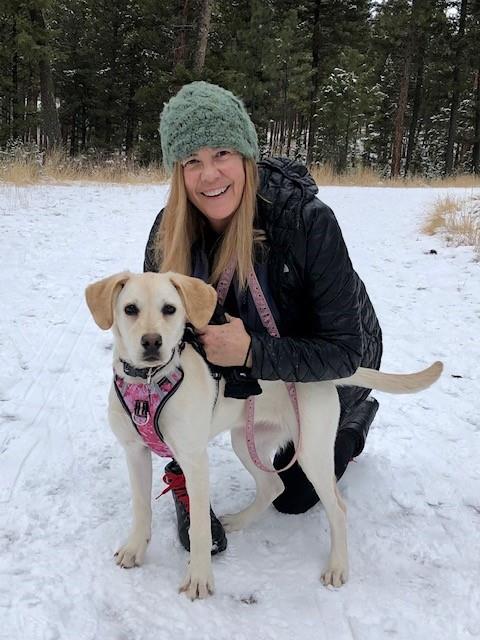 Phone: 406-728-2400 ext. 4451
Email:
Degrees and Certifications:
Robin Gray

Hello! I am Robin Gray and I welcome you to my MHMS webpage. Hello 6th, 7th, and 8th grade art students! It is very exciting having you in art this year and I look forward to every quarter and all the AMAZING artworks you are going to create!

A little bit about me...I have been teaching art for the past 26 years, starting my career in Pocatello, ID. I began at junior high level, then transferred to high school. I moved to Missoula several years ago and began teaching art at Sentinel High School. I decided I wanted to go back and teach younger students. Fortunately, I found my way to Meadow Hill and have loved it the past six years. It has been a fantastic and enriching career turning kids onto art!

I have one spectacular daughter, who is an artist, graphic and web designer in Wenatchee, WA. My other kids are Grayson, my rescue cat and Maggie, my rescue yellow lab/boxer. Many of you know Maggie, as she came to school with me over two years ago and loved being with everyone in our building....especially her kiddo buddies!!! She visits every Thursday, making the experience fun, therapeutic and exciting each week! ;o)

Aside from my passion for being outdoors, skiing, hiking, paddling, river-running, biking, swimming, walking, etc....I love reading, cooking, traveling, exploring and creating/teaching art!

Thank you for visiting my page. Please drop by room 207 anytime! Would love to show you around and have you check out the latest our very talented art students are creating!

Contact Information:

Meadow Hill Middle School
My YouTube page is designed for myself and my students as an Art rescource for tutorials, projects and skill developement information. This page opens directly to my list of playlists for drawing, painting, sculpture, etc... You can click on one of the folders and scroll down to find a variety of videos for your viewing pleasure and use. Enjoy...there are great artists sharing thier creativity and expertise. I' haven't posted any videos of me demonstrating creating art, but hope to in the future. Thanks for visiting!!