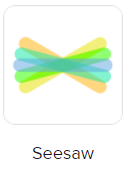 Remote Learning Link: Seesaw
You can access our Remote Learning App called Seesaw by clicking this link here: Ms. Lynn's Seesaw. You will need the username/password I sent home at the beginning of the year.

You can also access this by going to mcpsmt.org, clicking Web Connect, clicking Clever, logging in using the QR code that was sent home with the username/password.

If you have misplaced your child's login, please email me and I can get them to you via email.