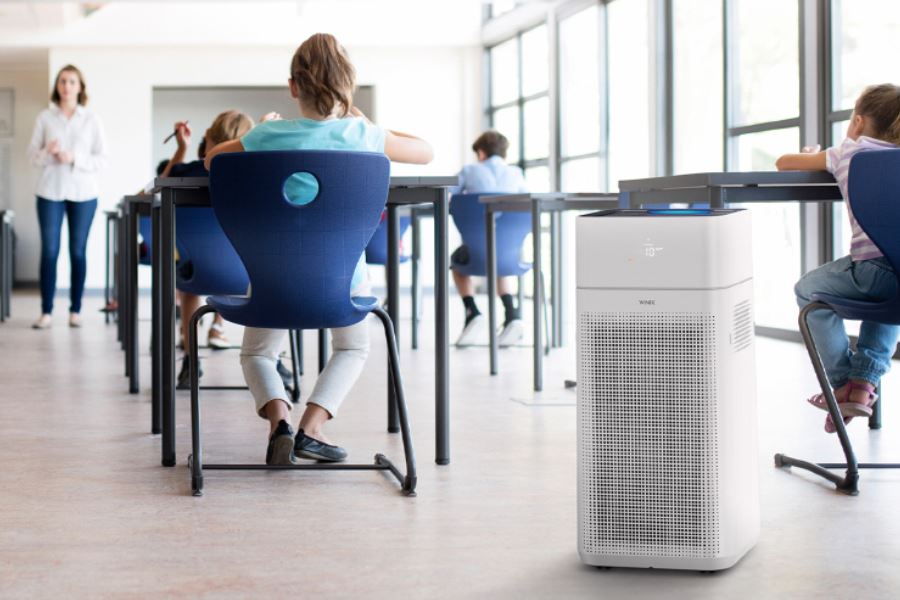 Greetings Paxson Teachers!

We would like to make you aware that, unless you already have a portable air purifier in your classroom, you will hopefully have a Winix C545 air purifier as of October 12, 2020. If you have a space other than a traditional classroom that does not have one of these on October 12, and feel that your space should have one, please let us know and we will work toward obtaining one in the future after our fundraising campaign. Please note that these purifiers will be technically owned by Paxson, and we kindly ask that you contact us in the event you'd like to move them to another classroom.

These air purifiers can 1) reduce indoor exposure to fine particulate matter due to wildfire smoke & additional pollutants trapped year-round in the Missoula Air Stagnation Zone (MASZ) and 2) be part of a plan to protect people indoors from the virus that causes COVID-19, when used along with other best practices recommended by the Center for Disease Control (CDC). This will compliment the newly installed ionizers that MCPS installed in the main school ventilation system last week!

Many Missoula community leaders have already done excellent work synthesizing information on Missoula air quality and potential health effects from air impacted by smoke & pollution, so we will not recreate that here, but you will find a few links below that describe these in detail. In particular, https://www.montanawildfiresmoke.org is a comprehensive source for Montana air quality education & filtration, and https://www.epa.gov/coronavirus/air-cleaners-hvac-filters-and-coronavirus-covid-19 outlines the potential benefits of indoor air purifiers in relation to COVID-19. Sarah Coefield, from Missoula City-County Health Department, has an extremely informative "smoke-ready" blog: https://www.missoulacounty.us/government/health/health-department/home-environment/air-quality/wildfire-smoke-resources-and-blog#080320_commercial%20HVAC. Given the large amount of time all of us spend indoors and the increased pollutants and virus causing particles, we believe these air purifiers will help increase the safety of our schools.

When & where the purifiers should be used: We ask that you turn on these purifiers when you arrive at school each day. They should be located close to you & your students, and can be left on all day, even when you leave the room for lunch or recess, and can be turned off when you are leaving for the day. We also recommend that you use the setting of 3 or 4 instead of leaving the setting on "auto". This will help to make sure your classroom air is routinely cycled through the filter. Please see the attached instructions for more details, but note that the color of light shown on the long bar indicates the current air quality. The C545 manual can be referenced for more information.

What to do if you have problems or need help: We do not want these to cause extra burden or time commitments for you! If you have any questions, please contact Cindy Leary at cindysleary@gmail.com, 406-274-0378, or the Paxson PTA. We have a two-year warranty on the devices, and want to make sure all of our children and staff have access to the benefits of the purifiers, so don't hesitate to contact us if your purifier isn't working!

Cleaning & changing the filters: The "first" filter in the four-filter system removes larger particles & dust and helps the other filters be more efficient. It can be cleaned much like a lint filter on a dryer (with a damp paper towel) every 2 to 3 weeks. If you notice this needs cleaning, we would very much appreciate if you could do that, but we will also work to see if this can be done for you, but it is currently difficult for us to get access to the building due to COVID-19. We will take care of changing the black carbon filter and the HEPA filter; these must be replaced and cannot be cleaned by hand.

We have been so humbled and impressed with the resiliency & teamwork of our teachers, staff, students and parents while we all work together to create a safe and enriching environment for learning. Thank you for all of your continued work & support of our community.